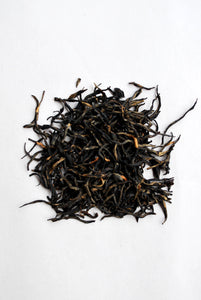 Every Day Jin Jun Mei
Regular price
$11.00
Sale price
$8.00
Tax included.
Shipping
calculated at checkout.
---
2020 Spring Harvest - Tong Mu, Fujian, China
Indulge in the world's most celebrated luxurious black tea. Indulging, rich, and satisfying. In China, Jin Jun Mei is typically purchased as a gift. Every Day Jin Jun Mei is a lower Grade than our Jin Jun Mei Deluxe but the quality remains very high. We wanted to originally only select Jin Jun Mei Deluxe, but when we tried this one, we couldn't resist it. It's unbelievably good for a lower grade Jin Jun Mei, and we thought, why not have an Everyday Jin Jun Mei too?
Jin Jun Mei (golden eyebrows) is a relatively modern tea, only introduced to the market just around 15 years ago. Originating from Tongmu Village in the Wuyi Mountain region, the home of Lapsang Souchong. All teas from this region enjoy superior natural conditions.
Jin Jun Mei is one of the finest teas produced in the famous Wu Yi mountains. It is picked and processed in the early spring, and it is completely handmade. In fact, intense labour is required to produce Jin Jun Mei, where each 100g usually contains around 10.000 handpicked and hand-rolled buds, the hard work is reflected in the price tag too, the labour and incredible flavour profile makes this the most luxurious tea in the world.
Jin Jun Mei Tea Benefits
According to Chinese medicine experts, Jin Jun Mei leaf tea is a great beauty tea as it can assist in cleansing and beautifying the skin. In addition, it can nourish the stomach, strengthen the immune system, calm the nerves, and slow down the ageing process.
Brewing Idea
5-8g of tea per 200ml water. Boil fresh, filtered water at 95℃. Steep for 10 seconds. Make 8 sessions each time increasing steep time by 5 seconds. 

For Western Style Brewing use 3-4g for a 200ml cup using 

 

95℃ water. Steep for 3 minutes.
Tea Notes

Appearance: Burnt Orange

Aroma: Malty, burnt caramel,  dark wood, dark chocolate, geranium

Flavour:  Dark chocolate milk, Turkish delights, rose, malty. 

Mouthfeel: Soft, thick, creamy, with a lingering sweet aftertaste
 Please note, 10% of all Chinatown Collection sales will be donated to the Chinese Community Centre in London's Chinatown.