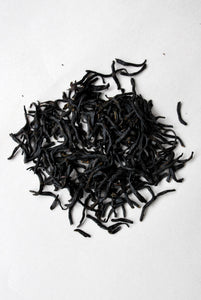 Smoky Fortune Lapsang Souchong
Regular price
$9.00
Sale price
$7.00
Tax included.
Shipping
calculated at checkout.
---
2020 Summer Harvest - Tong Mu Village, Wuyi Mountains, Fujian, China
Original and historic Tong Mu smoked Lapsang, made with top-quality leaves and smoked over pine woods by highly skilled tea makers. It's hard to find a good quality Smoked Tea in the market and we searched for a long time before finding one we really LOVE. Sip the intoxicating Smoky Fortune Lapsang Souchong in the later afternoon after a long day, and allow your body and mind to rest. Heartwarming and indulgent, traditionally consumed with sugar and milk.
True to tradition, this smoky black lapsang tea is harvested in summer in China's rocky and mineral-rich Wuyi Mountains, using the tougher leaves from the lower parts of the Camellia sinensis plant, which are then smoked over pine wood.  
Unlike many other tea-producing areas in China, the tea trees in the Wuyi Mountain Scenic Preserve of Fujian Province of southeastern China are not cultivated in the plantation style. They are allowed to grow naturally wild in spacious groves (making them more difficult to pick), ranging in age from several years old to more than 100 years old, and elevations around 2500-3200 feet. This growing zone is strictly protected by the government, so absolutely no chemicals or pesticides are used.
Tong Mu Village is famous for having invented Black Tea. Before the mid-1600s, only green and oolong teas were drunk in China. When the Tong Mu Villagers were forced to flee their homes when an army invaded their village, it forced them to leave their tea harvest. When the soldiers left and the villagers were able to return, the Tong Mu workers struggled to catch up with the tea harvest, so they placed the leaves over pine embers to dry faster – and this charismatic lapsang tea was born.
Like a dark black tea, Lapsang Souchong is high in caffeine, making it a great all-day pick-you-up, and contains body-boosting benefits such as B vitamins, which help with energy and fighting infection, and minerals such as potassium, zinc, and manganese, essentials for overall well-being. 
Brewing Idea
3-4g of tea per 200ml water. Boil fresh, filtered water at 100℃. Steep for 2-3 minutes. 

Highly recommended: consume with sugar and milk for a pleasant surprise.
Tea Notes

Appearance: Rusty Red

Aroma: Harmoniously smoky, exotic, burnt caramel, dried dates, dark toffee, figs, smoked pinewood, vanilla bourbon

Flavour: Smoky, burnt caramel, tobacco, dark toffee, oaky wood, vanilla bourbon, whiskey

Mouthfeel: Lively and pleasant mouthfeel.
Please note, 10% of all Chinatown Collection sales will be donated to the Chinese Community Centre in London's Chinatown.